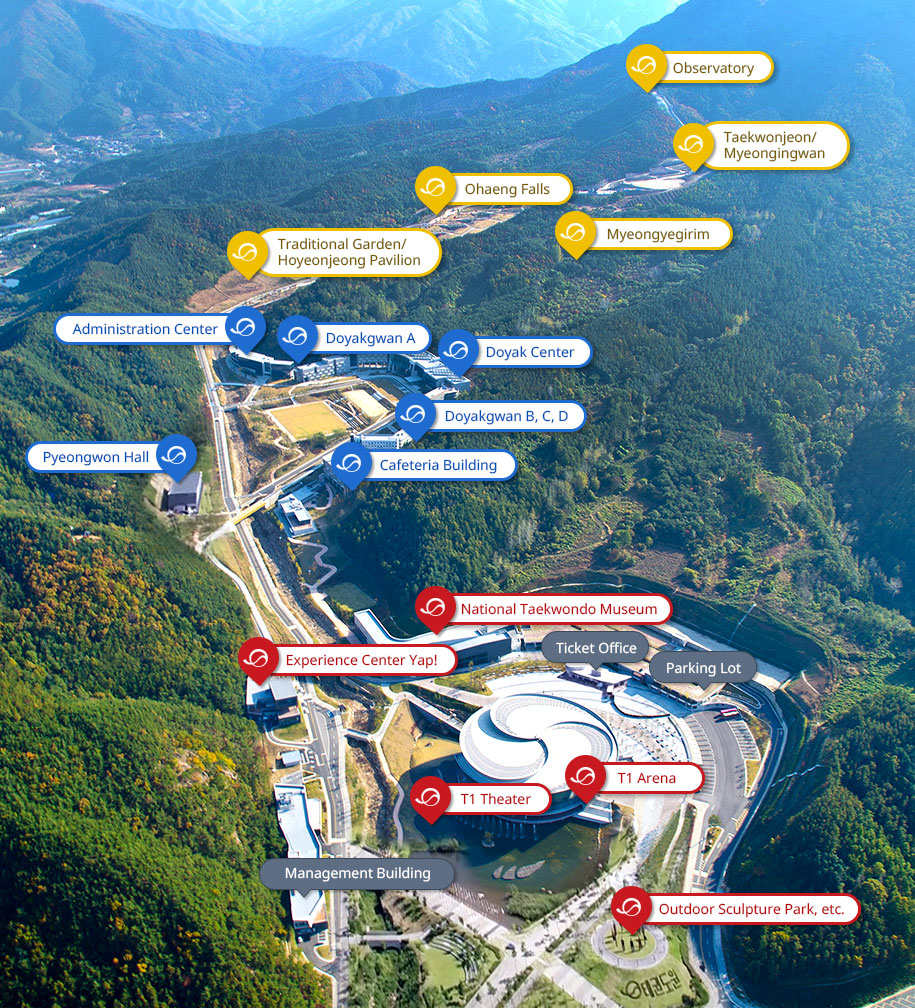 T1 Arena
- The largest Taekwondo arena of its kind in the world
- T1 Arena is a professional space exclusively for taekwondo, and the mood is set with the basic motif of the three-part taegeuk of heaven, earth, and humans as the fundamental spirit of taekwondo
Outdoor Sculpture Park, etc.
An outdoor sculpture park designed based on Taekwondo poomsae.
National Taekwondo Museum
- Securing flexibility for various exhibition spaces / composting three-dimensional exhibition spaces
- Holding about 5,000 artifacts related to Taekwondo from the ancient times to the present age
Experience Center Yap!
- A facility to experience basic training and practical techniques of Taekwondo
- Three-dimensional space that intimately connects understanding of Taekwondo's superiority, virtual sparring, and Taekwondo exercise experience.
Cafeteria Building
A space for dining and resting for group and individual visitors.
Pyeongwon Hall
A multipurpose training facility for Taekwondo training, banquets, seminars, etc.
Administration Center
The center houses offices for the administration and business affairs of taekwondo organizations.
- Main facilities: Offices, large auditorium, small and medium-size conference rooms, computer rooms, documents room, warehouse World Taekwondo Academy (WTA), World Taekwondo, Taekwondo 9 Dan Holder Association, Korea Taekwondo Association For the Disabled
Doyak Center
A training facility for taekwondo professionals and advanced practitioners, including instructors, coaches, referees, players, and administrators
Doyakgwan A
- Main facilities : Guest rooms / Single rooms of 23.1㎡, 42.9㎡(double/single), Business rooms, etc.
- Capacity: 175 persons / 23.1㎡ X 36 rooms, 42.9㎡(double X 9 rooms, / single X 65 rooms)
Doyakgwan B, C, D
- Main facilities: Guest rooms(39.6㎡ single/Korean-style room, 49.5㎡ Korean-style room), rest areas, group showers / sauna(by gender), laundry room, etc.
- Capacity: 856 persons (39.6㎡ X 96 rooms, 49.5㎡ X 59 rooms)
Traditional Garden/Hoyeonjeong Pavilion
This charming Korean traditional garden, which is designed to accentuate the natural features of a valley, offers insight into the Korean mindset.
Ohaeng Falls
A spiritual space with traditional architecture and landscape style is in co-existence and harmony with nature, which symbolically represents the Taekwondo philosophy and spirit through facilities and programs.
Myeongyegirim
An honorary park for taekwondo masters devoted to the development and dissemination of the martial art in Korea and overseas, and which conveys the meaning and spirit of taekwondo to the general public.
Taekwonjeon/Myeongingwan
- Taekwonjeon : A space that symbolically represents the Taekwondo philosophy and spirit
- Myeonginhwan : A community and network space for the highest Taekwondo Dan holders
Observatory
- A convenience facility with a panoramic view of Taekwondowon and Mt. Baekun
- it comprises sloped observatory for extreme experienced cafe
T1 Theater
- Total seats : 423 seats
- Stage size : 22.4m X 12m (268.8㎡ / 81.5 pyeong)