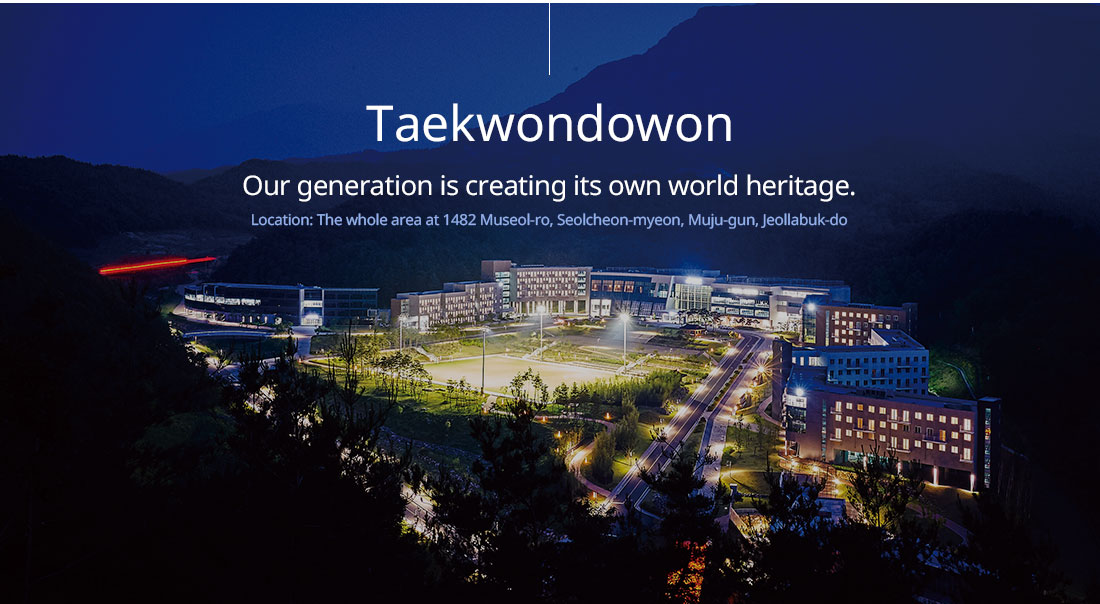 Business scale

Total area: 2,314,000㎡
Development area: 879,000㎡
(Excluding private facilities)

Gross building area

66,000㎡ (excluding private facilities)

Business period

2005 ~ 2013
(Commenced in 2009, completed in 2013)

Total operating expenses

247.5 billion won
(national government: 215.3 billion / local government: 14.6 billion
/ donation: 17.6 billion)
Background of Taekwondowon BusinessCreation of "Taekwondowon" as a leading brand of Korea to play a pivotal role as the birthplace of Taekwondo
Taekwondo was adopted as an official Olympic event at the 103rd IOC General Assembly (1994. 09).

It has now become an international sport trained by 80 million people in 206 nations.

There is a need to ensure legitimacy and enhance status as the birthplace of Taekwondo.

There must be symbolic Taekwondo infrastructure that meets its status as the birthplace of Taekwondo.
Taekwondo is to be fostered as a leading brand, culture and tourism resource of Korea.

It is necessary to form public opinion to create a global mecca of Taekwondo.

Creation of a global Taekwondo headquarters has become urgent with the accelerated growth of Taekwondo in other countries.
Progress of Construction
2014.12

- Finalized the site for Taekwondowon (Muju-gun, Jeollanam-do)

2013.08

- Completed construction

2010.03 ~2013.06

- Groundwork and construction (2013. 06: Approval of building use)

2009.09

- Celebration and groundbreaking ceremony of Taekwondo Day

2009.05

- Appointed the turn-key constructor for Taekwondowon

- Party qualified for working design: Samsung C&T Consortium (Samsung, Doosan, Hanwha, Seongjeon E&C)

2008.08

- International Taekwondowon Master Plan Design Contest

- Winner: The BODY, MIND and SPIRIT (Weiss & Manfredi / U.S)

2007.12

- Enactment of 'Act on the Promotion of Taekwondo and Creation of Taekwondo Park'

- Completed feasibility survey on total business expense